Running in prod mode!
Published on 17 Dec 2021
Many changes in this new release, available on mobile, desktop and CLI:
Per-notebook sort order and sort buttons
This new feature adds a number of changes to the way notes are sorted. The most visible one is the addition of a sort button above the note list - it allows sorting by modification date, creation date, title or by custom order, in either ascending or descending order: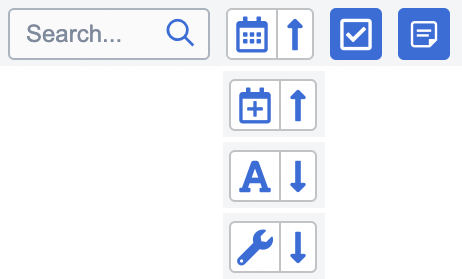 By default, this sort order is going to apply to all notebooks, however you can now also assign a per-notebook sort order. In this case, any sort order will be apply to that notebook only. To enable this behaviour, simply right-click on a notebook and select "Toggle own sort order":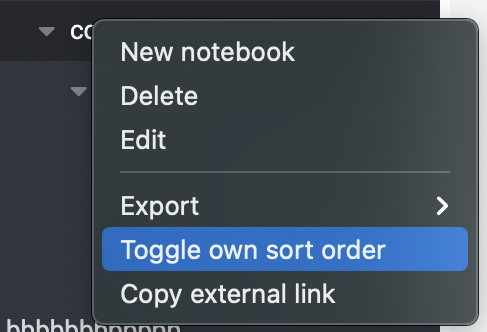 Thanks to Kenichi Kobayashi for developing this feature!
Support for notebook icons
It is now possible to associate icons with notebooks no both the desktop and mobile applications. To do so, right-click on a notebook and selected "Edit".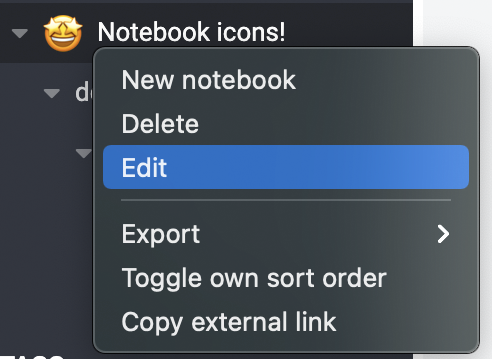 This will open the new notebook dialog from which can change the title and assign an icon. For now the icons are emojis but perhaps custom icons could be supported later on.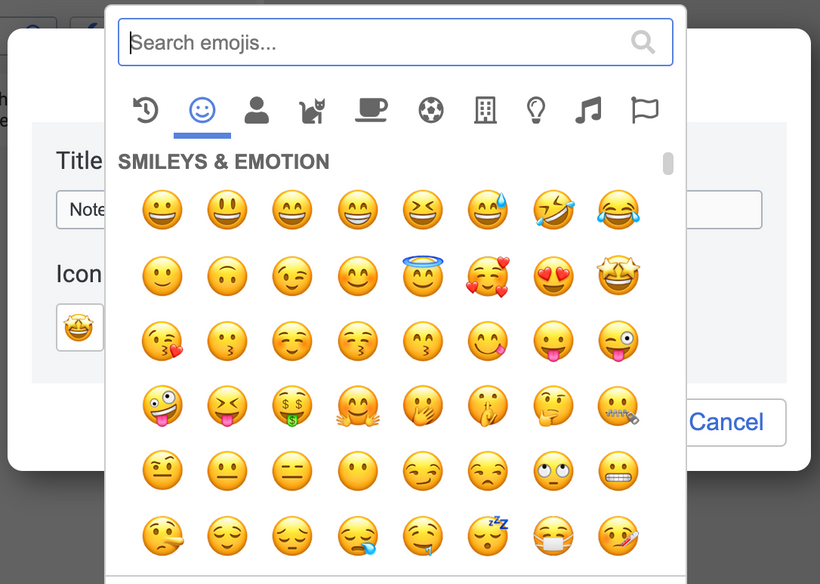 Allow collaborating on encrypted notebooks using Joplin Cloud
Thanks to the encryption improvements in the previous Joplin versions it is now possible to share and collaborated on encrypted notebooks, when synchronising with Joplin Cloud (or Joplin Server).
To get this working, you and the recipient will need to have Joplin 2.6 and the person who shares will need to have encryption enabled. After that most of the process is handled automatically by the apps - in particular it will automatically generate and share the required encryption keys for each users.
Improved synchronisation startup speed
Synchronisation is also a bit faster in this release due to an optimisation on the startup process. When syncing, the app needs to acquire a lock, which may be time consuming since it requires making multiple requests. This has now been optimised so that less requests are necessary and also each request consumes less resources. This will have a postive impact on Joplin Cloud in particular, but you should also see improvements with Joplin Server and smaller improvements with the other sync targets.
Improved Markdown editor split view scrolling
Kenichi Kobayashi made some great improvements to the Markdown editor scrolling in this release. The issue before was that the editor on the left and the viewer on the right would often not be in sync, in particular if the note contains several images and other media.
With Kenichi's change the editor and viewer stay nicely in sync, regardless of the note content. In fact it looks a bit like magic when you scroll through large notes - notice in particular how each side appear to wait for the other or speed up in order to make sure both sides are aligned as well possible. Kenichi provides a nice technical documentation about the feature here.
https://www.youtube.com/watch?v=Wbs5XZR0oeU
Improved and optimised S3 synchronisation
Thanks to the efforts of Lee Matos, synchronisation with S3 is now more reliable and errors are also better handled. The underlying S3 SDK has also been upgraded from v2 to v3 which results in a smaller executable size (about 3-5 MB depending on the operating system)
Export notes as self-contained HTML files
Exporting a single note as HTML is now more user friendly as all images, scripts, styles and other attachments are all packed into a single HTML file (Previously it would create multiples files and directories). This makes it easier to share the complete note with someone who doesn't have Joplin.
Other changes and bug fixes
This release includes a total of 19 new features and improvements and 16 bug fixes. See the 2.6.x changelogs for more details:
https://joplinapp.org/changelog/
https://joplinapp.org/changelog_android/
https://joplinapp.org/changelog_ios/
https://joplinapp.org/changelog_cli/
---
---
Published on 2 Nov 2021
Just a head up that the next Joplin Server update could potentially include a breaking change, depending on your data.
One of the database migration is going to add an "owner_id" column to the "items" table (where all notes, notebooks, etc. are stored), and automatically populate it. Normally that shouldn't take too long but you might want to make sure you won't need the server right away when you process this.
The second database migration will add a unique constraint on items.name and items.owner_id and that's where the breaking change might be. Normally this data is already unique because that's enforced by the application but in some rare cases, due a race condition, there could be duplicate data in there. If that happens the migration will fail and the server will not start.
If that happens, you'll need to decide what to do with the data, as it's not possible to automatically decide. You can find all duplicates using this query:
<code>select count(), name, owner_id
from items group by name, owner_id
having count() > 1;</code>
Once you have the list of IDs you have a few options:
Find the corresponding item in Joplin (it can unfortunately be anything - a note, resource, folder, etc.), then delete it and sync.
Or, just delete the data directly in the database. You'll want to delete the corresponding item_id from the user_items table too.
But really in most cases you should be fine. Especially if you don't have that many notes it's unlikely you have duplicates.
---
---
Published on 31 Oct 2021
Joplin v2.5 is now available for desktop, mobile and CLI! Here's an overview of the changes:
Support for Markdown + Front Matter🔗
Markdown + Front Matter is a format that allows attaching metadata, such as tags, creation date, or geolocation to a Markdown file. This is done by adding a block of YAML code (a "front matter") at the top of the file.
Thansk to Caleb John's efforts the Joplin desktop and CLI applications now support importing and exporting these files. When exporting, we try to preserve as much metadata as possible, while still keeping it the formatting user friendly.
Here's an example, with the Front Matter at the top, delimited by "---", and the text below.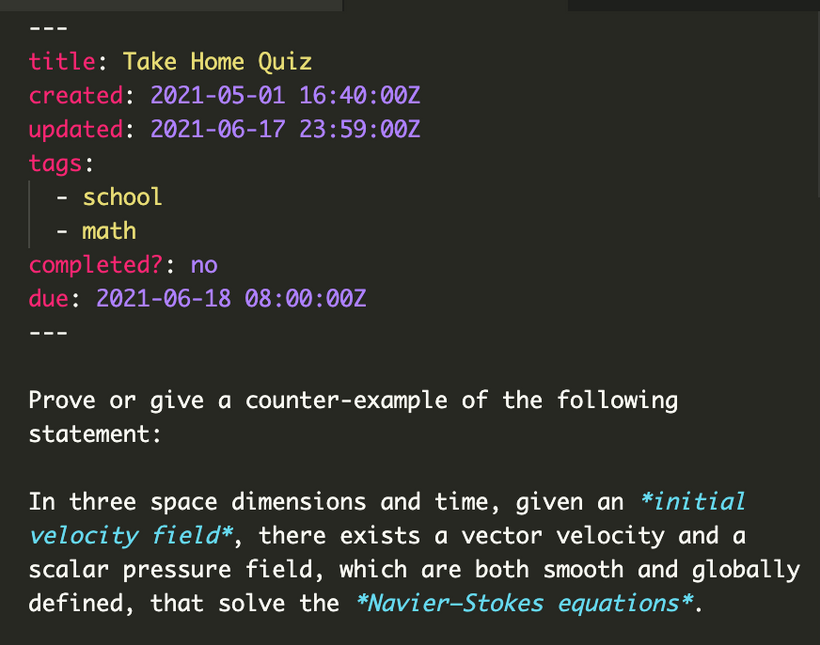 Markdown + Front Matter is an excellent way to share notes with someone who doesn't have Joplin, to backup notes in a durable format (since no third-party application is needed to read it), and also to export notes to other applications, or to import them.
As with the regular Markdown exporter, the images and attachments are also exported.
Add support for callback URLs🔗
Callback URLs is a semi-standard that defines how certain resources in an application can be accessed via URLs. Either to view the resource, or to perform certain actions, such as deletion, creation, etc.
Joplin now support callback URLs to open notes, notebooks and folders. To do so, right click on a note and select "Copy external link":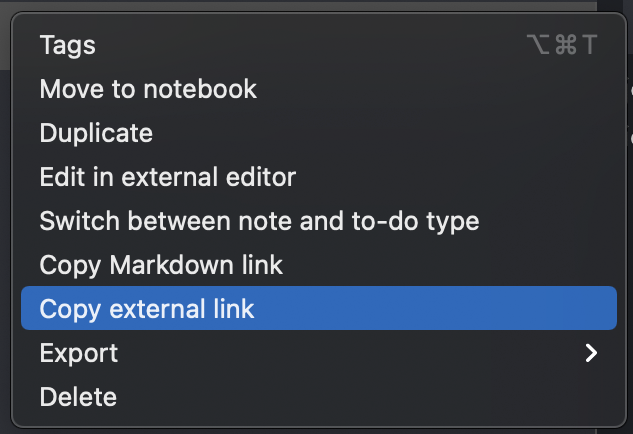 That would give you a URL such as this:
joplin://x-callback-url/openNote?id=b7a7b93281f54d928612eea550f33a7f
Then if you click it from outside the app, the app will open and select this particular note. In practice such a feature allows third-party application to interact with Joplin by creating links that can be opened from outside. For example, you may use a different application for project planning, then link to the individual notes for more details about each task.
Many thanks to Roman Musin for adding the feature!
Improved end-to-end encryption support🔗
The series of quiet but major changes to the end-to-end encryption support continue in this new verison. One goal is still to allow sharing notebooks while encryption is enabled.
To that end, v2.5 includes support for RSA public-private key pairs. If you have encryption enabled, they will be automatically generated when you synchronise by the mobile, desktop or CLI applications. Later on, these keys will be used to allow sharing encrypted notebooks.
The second goal of these E2EE changes is to simplify the system enough that it can be enabled by default. To that end, the master password dialog and encryption screen have been improved. An option to reset the master password is now also available.
Various other improvements and bug fixes🔗
In total this release includes about 11 other bug fixes and improvements. There was in particular several improvements to the share features. It is now also possible for a share recipient to leave the shared notebook.
Mobile app update🔗
As always the mobile apps (to be released soon) benefit from several of the above changes since they share the same codebase as the desktop app.
Specific to the mobile version 2.5 are some improvements to the beta editor - in particular the layout has been cleaned up, and the first word of sentences is now automatically capitalised, which makes typing notes easier. If you haven't tried the beta editor yet, you can enable it from the Configuration screen.
The full changelog is available there: https://joplinapp.org/changelog/
---
---
Published on 30 Sep 2021
Some of you might be experiencing an error "Certificate has expired" when synchronising with Joplin Cloud (and possibly other services) when using the desktop application.
This is due to Let's Encrypt root certificate that expired on 30 September, and the new method they are using is not compatible with the Joplin desktop application.
This actually affects thousands of applications, not just Joplin, so various solutions are being considered right now and hopefully a fix will be available relatively soon.
For now, as a workaround, you can simply check "Ignore TLS certificate errors" in Configuration > Synchronisation > Advanced Options
I will let you know as soon as a fix is available so that you can clear that option.
More info:
- Issue with Electron and expired root on Let's Encrypt
- Let's Encrypt root CA isn't working properly on Electron GitHub repository
Update: I have implemented a temporary fix on Joplin Cloud which should solve the issue for now. If you're still having some issues please let me know. An updated desktop app will be available later on with a more permanent fix.
---
---
Published on 29 Sep 2021
Joplin 2.4 is now available on desktop, mobile and CLI. Here's what's new in this release:
Sync Wizard Dialog🔗
A new Sync Wizard Dialog has been added to simplify setting up sync on new clients.
The dialog shows the main sync targets, their differences, and makes it easy to choose one and start synchronising. This is mostly aimed at new users or those perhaps less technical. Those who are self hosting or using complex setups will still easily find what they need from a link on that dialog (or in Config > Synchronisation like before).
Sync setup on mobile has been slightly improved too - now on a new client, instead of asking you to sync with Dropbox directly (which may not be what you want), it jumps to the Config > Synchronisation section where you can select the sync target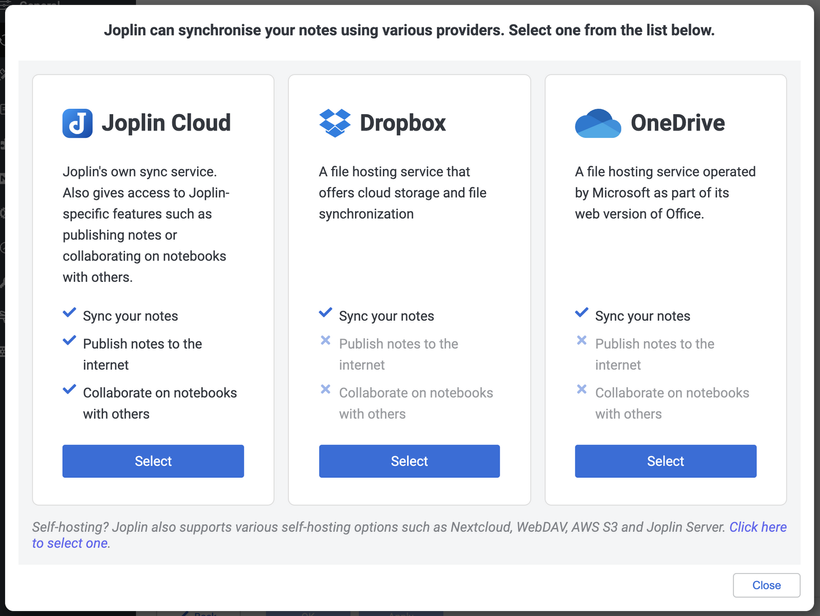 Disable synchronisation🔗
It's a small change but something that's been asked many time - it's now possible to disable synchronisation entirely by selecting "None" as a sync target. Previously that could be done in a hacky way, by selecting a non-configured sync target. Now it's clearer and easier to do.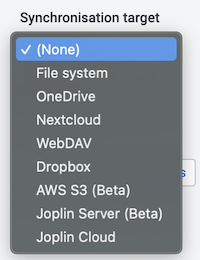 Add back support for deprecated plugins🔗
Recently some plugins stopped working because deprecated plugin APIs had been removed. It had been planned for a long time but I suspect the warnings weren't visible enough so plugin developers didn't act on them, and as a result many plugins stopped working.
This is now fixed in the latest version. A selected number of plugins will have access to these old deprecated APIs, which means they will start working again. This was mainly affecting ambrt's plugins such as "Convert Text To New Note" or the popular "Embed Search" plugin.
Add support for recommended plugins🔗
As mentioned in an earlier post, we now support recommended plugins. These recommended plugins appear on top when searching and are identified by a small crown.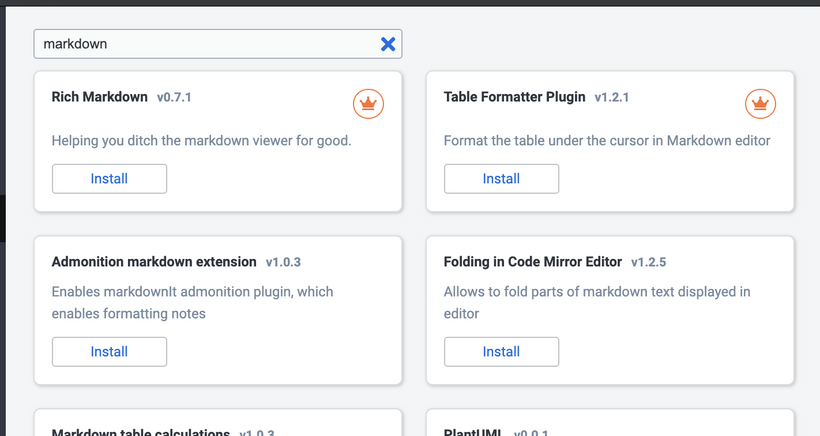 End to End Encryption improvements🔗
Like most recent releases, v2.4 includes a few improvement to the End to End Encryption (E2EE) system. The goal is to make it easier to use, to make it more reliable and to support the future use case of sharing encrypted notebooks or notes.
One important change is the support for a master password. This single password will be responsible to encrypt various keys, including some that will be automatically generated. Thanks to this, it won't be necessary to ask to enter a new password every time a key needs to be encrypted, since the master password can be used. It will also be easier to manage since you'll only have one password to remember instead of a different one for each notebook you might have shared.
Finally, it's now possible to disable a master key. What it means is that it will no longer show up in the list of master keys, and will also no longer generate a warning asking you to enter the password. In some case you might have forgotten it and no longer need it key, so you can now disable it.
Custom CSS🔗
This version also introduces a few internal change to better support custom CSS. In particular the colours now come from a CSS file, which could potentially be overridden, and new UI elements are styled using stylesheets, which likewise could be overridden.
Those are just first steps, but eventually these changes will make it easier to style the UI and create new themes.
Bug fixes🔗
This release also includes about 30 various bug fixes and improvements.
A notable one is a fix for GotoAnything, which recently wasn't working on first try.
The plugin screen has also been improved so that search works even when GitHub is down or blocked, as it is in China in particular.
---
---
Published on 1 Sep 2021
A common request from new users is how to know which plugin is safe to install or not. In fact probably all of them are safe but as a new user that's not necessarily easy to know. So to help with this, the next version of Joplin will support recommended plugins - those will be plugins that meet our standards of quality and performance, and they will be indicated by a small crown tag inside the plugin box. Recommended plugins will also appear on top when searching.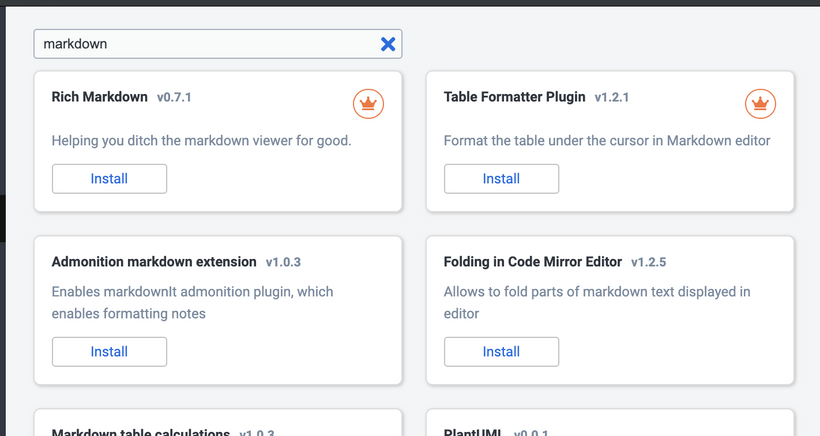 For now, since we don't have a review process, the recommended plugins are those developed by the Joplin team and frequent contributors, because we know those are safe to use.
Later we might have a review process and add more recommended plugins. That being said, in the meantime even if a plugin is not marked as recommended, there's a good chance it is still safe and have good performance too. Often you can search for it on the forum and if it's active with many users commenting, you're most likely good to go.
But if there's any doubt, the recommended tag is a good way to be sure.
---
---
Published on 31 Aug 2021
Joplin Cloud has been out of beta for a few weeks now and since then it has been quietly running without any troubles. There is no known bugs and the service is running smoothly so it's now safe to say that it is production ready!
As a reminder, Joplin Cloud is meant to provide a more seamless Joplin experience - if you want to quickly get started, it's as easy as downloading the app and getting a Joplin Cloud account. Besides improved sync performance, that will give you the ability to collaborate on notebooks with others, as well as publishing and sharing notes.
Of course Joplin still supports other sync options such as Nextcloud, Dropbox and OneDrive or AWS S3. You can also self host using Joplin Server. The advantage of Joplin Cloud being that you don't need to maintain a server yourself - for a small fee you'll get that taken care of.
Additionally, subscribing to Joplin Cloud is a great way to support the project as a whole, including the open source applications. Such support is needed in the long term to provide bug and security fixes, add new features, and provide support.
At some level it is also an experiment, to see if such a service is financially viable and can allow me to work full time on the project. This is certainly something I would like, and perhaps Joplin Cloud combined with your donations will allow that.
---
---
Published on 4 Aug 2021
For anyone with a beta account, if you would like to keep using it after the end of the trial period, there is now a button to do this from the Joplin Cloud home page:
If you click on it you will be sent to the Plans page via a special link. Then once you click on "Buy now" you will be sent to the Stripe page where you can start the subscription.
As mentioned in the message, the process takes into account your remaining beta trial days. So for example, if your beta account expires in 60 days, the subscription will have a free 60 days trial period. This is so you don't lose any of the beta trial days no matter when you start the subscription.
If you have any question about it, please let me know.
---
---
Published on 29 Jul 2021
The latest Android pre-release 24 features an improved beta editor, which I hope could become a replacement for the very basic editor we have at the moment.
It's still experimental because it's based on the equally experimental CodeMirror 6, however for simple editing tasks it seems to work fine. At the moment the improvements are:
- Syntax highlighting for various tags such as bold, italic and headings.
- List continuation for ordered and unordered lists (I didn't try checklists but I assume it doesn't work)
- Improved undo/redo
- Maybe better handling of large documents? CodeMirror 6 has a demo that loads a document with millions of lines, so maybe that will solve the performance issues that some users were having
If everything works well, later on we should be able to add things like a toolbar, spellchecking and other features that are impossible with the current editor.
If you find any bug, feel free to report here. Also make sure you backup your notes regularly in case there's an issue!
---
---
Published on 18 Jul 2021
The beta program helped narrow down a few issues and should make Joplin Cloud (and Joplin Server) more reliable. More precisely:
About 7 bugs have been fixed, including two major ones regarding sharing, and one security issue.

About a dozen improvements, new features and optimisations have been added following your feedback.
As promised if you have a beta account you can keep using it and it will remain free for the three months after the account was created. After that, you will receive a link to start the Stripe subscription if you wish to keep using the account.
If you have sent me an email before the end of the beta and I didn't reply yet, I will do so soon, and will send you the confirmation email.
Thanks everyone for participating!
---
---
Published on 11 Jul 2021
The new website is finally ready at https://joplinapp.org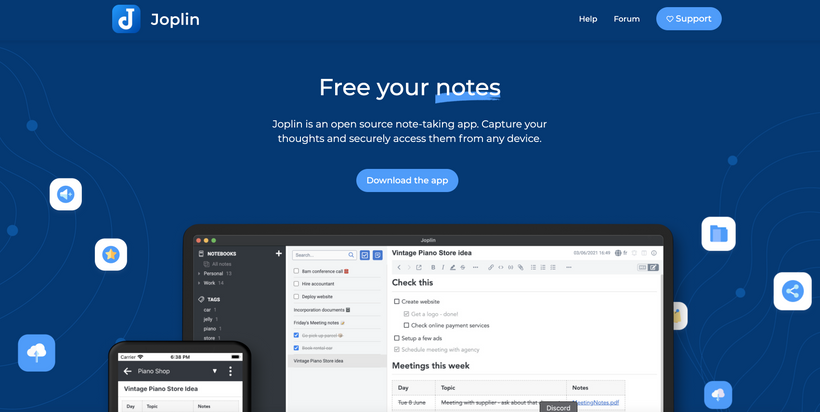 The previous website had been built organically over the past few years. It had a lot of useful content but finding your way was tricky and, for new users, it wasn't clear what Joplin was about. Finding out how to install the app wasn't obvious since the download buttons were lost in the clutter of information.
So the new website includes a front page with clear goals:
Allows people to easily download the app - for that there's a large Download button at the top and bottom of the page. It redirects to a page that automatically picks the version based on your operating system.

Showcase the application key features. The key features post on the forum helped narrow down what Joplin is about, so there are sections about the web clipper, the open source nature of the app, encryption, synchronisation, customisation and the ability to create multimedia notes.

The top screenshots have also been updated (the previous one was showing a dev version from 2016, before the app was even released). As a nod to Scott Joplin, the screenshot shows an imaginary plan to open a vintage piano store, with various tasks, tables, documents and images attached, to showcase Joplin features.

Finally there's a Press section, which includes extracts from some cool articles that have been written about the app.
Also many thanks to everyone who voted and contributed to the tagline discussion! It helped narrow down what the tagline should be, along with the equally important description below. If you have any question or notice any issue with the website let me know!
---
---
Published on 6 Jul 2021
Thanks everyone for your tagline suggestions - there were lots of good ideas in there. I've compiled a few of them and create a poll in the forum, so please cast your vote! And if you have any other suggestions on what would make a good tagline, feel free to post over there or here.
https://discourse.joplinapp.org/t/poll-what-should-joplin-tagline-be/18487
---
---
Published on 5 Jul 2021
I'm going to update the website front page to better showcase the application. I have most of the sections right, but the part I'm still not sure about is the top tagline, so I'm wondering if anyone had any suggestion about it?
From what I can see on Google Keep or Evernote for example it should be something like "Use our app to get X or Y benefit", it should be a sentence that directly speaks to the user essentially.
So far I have "Your notes, anywhere you are" but I'm not certain that's particularly inspiring. Any other idea about what tagline could be used?
---
---
Published on 24 Jun 2021
Poll is on the forum:
https://discourse.joplinapp.org/t/poll-whats-the-size-of-your-note-collection/18191
---
---
Published on 21 Jun 2021
Since a few versions Joplin Server includes a way to share notebooks between users and collaborate on them - i.e. any participant can view or modify notes in the shared notebook. It's been present since version 2.x and the feature is getting close to be stable.
How does it work?
When connected to Joplin Server (or the upcoming Joplin Cloud service), a new "Share notebook" menu item is available when right-clicking on a notebook.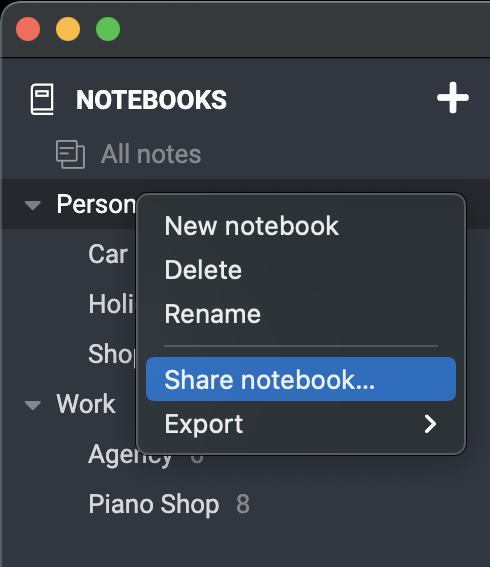 Click on it, and it will display a new dialog where you can add any number of recipients. Those recipients also need to be on the same Joplin Server instance. From this dialog you can also remove a recipient or unshare the whole notebook, in which case it will be removed from everybody's note collection, except yours.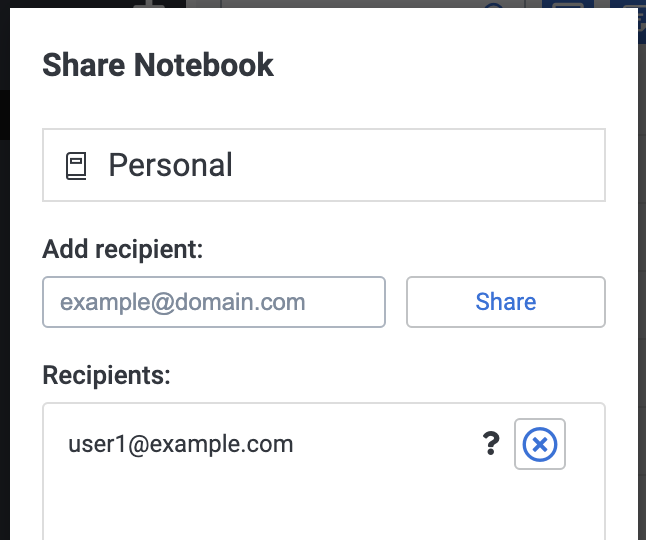 Once this is done, the recipient(s) will receive a notification in Joplin the next time they synchronise their data:

Then, finally, once the invitation is accepted, Joplin will download all the shared notebooks and notes. A shared notebook is denoted by the usual Share icon. Now the invited user can read or modify the shared notes, add attachments, etc. and the changes will be visible to everyone with access to the notebook.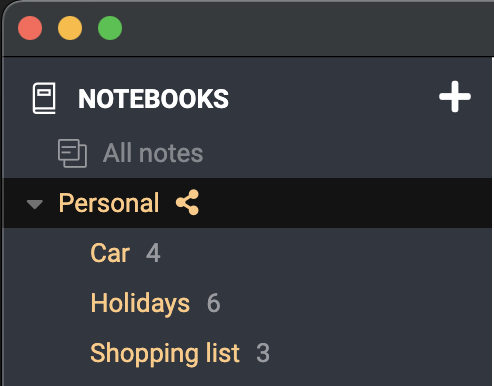 What's the availability of the notebook sharing feature?
The notebook sharing feature is available on Joplin Server and Joplin Cloud.
On desktop, you can share notebooks and of course view or modify any notebook that has been shared with you.
On mobile and CLI, you cannot currently share notebooks, but you can view or modify any notebook that has been shared with you.
If I share a notebook with someone, what access do they have?
Currently they have full access to the data, including reading, writing and deleting notebooks or notes. In a future version, access control might be implemented. For example, to only give read-only access to the shared notebook.
What can actually be shared?
All the sub-notebooks, notes and resources within the shared notebook are shared.
Does it work with End-To-End-Encryption?
Yes and no. It is possible to use the share notebook feature even with E2EE enabled, however any shared notebook or note will not be encrypted, otherwise you would have had to give your master key password to the people you share with, which you'd probably not want to do.
In a future version, this might be supported. For example by automatically creating a new master key for the shared notebook. You would then provide the recipients with that master key password.
What can it be used for?
Some ideas:
Plan a trip with friends or within a small organisation. For example, the notes could contain the maps, hotel and flight reservations, etc. or any document or note relevant to the trip. And all participants would have access to them.

Work on a project with colleagues. Everybody can access various work-related documents, add to them, modify them, etc. That could serve as a knowledge base for a project.

Another possible use, which has been requested many times, is to support multiple profiles. You could create a main profile that have access to all notes, and in there create a Work and Personal notebook. Then you would create a separate account for work. You can then share your Work notebook with that other account. That way the work account will only have access to the Work notebooks. You can use this technique in various ways to split your notebooks between multiple accounts and ensure strict separation between datasets.
---
---
Published on 18 May 2021
Google has reviewed the project proposals we had submitted and all students have been approved. Congratulation and welcome to our six students - we're looking forward to see your work!
Below is the list of projects along with the student name and mentors. This year we will have a main mentor and a co-mentor for each project and in the list below, the main mentor is listed first:
BibTeX Plugin
Student: Abdallah Ahmed
Mentors: Laurent Cozic, Helmut K. C. Tessarek
Improving Conflict Resolution Process
Student: Ahmed Alwasifey
Mentors: Jack Gruber, Caleb John
Kanban Board Plugin
Student: Mablin
Mentors: Roman Musin, Laurent Cozic
Paste Special
Student: Siddhant Sehgal
Mentors: Helmut K. C. Tessarek, Stefan Müller
Real-Time Collaboration
Student: Akash Konda
Mentors: Stefan Müller, Roman Musin
Template Plugin
Student: Nishant Mittal
Mentors: Jack Gruber, Caleb John
* * *
The official Google of Summer Code page has also been updated with the list of projects:
https://summerofcode.withgoogle.com/organizations/6579646541332480/
---
---
Published on 13 May 2021
Joplin Server had a feature to share a note by link for a few versions now but it was mostly a beta feature. In Joplin Server 2.0, the feature will be officially released and should be stable.
To share a note, you will need the corresponding desktop application v2.0. Then you can right-click on any note and select "Share note..." from the context menu. You can also select multiple notes, and each will have its own share link.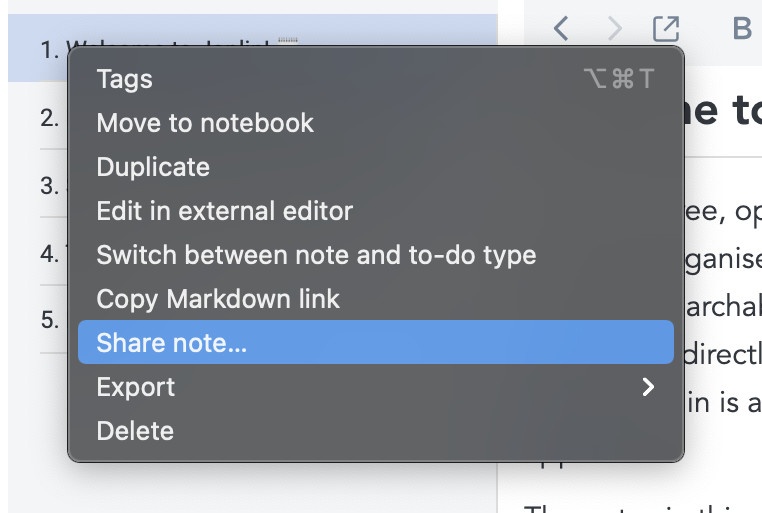 After that a dialog opens showing you the note - from there you just need to click on "Copy shareable link" to create the share link and copy it to the clipboard.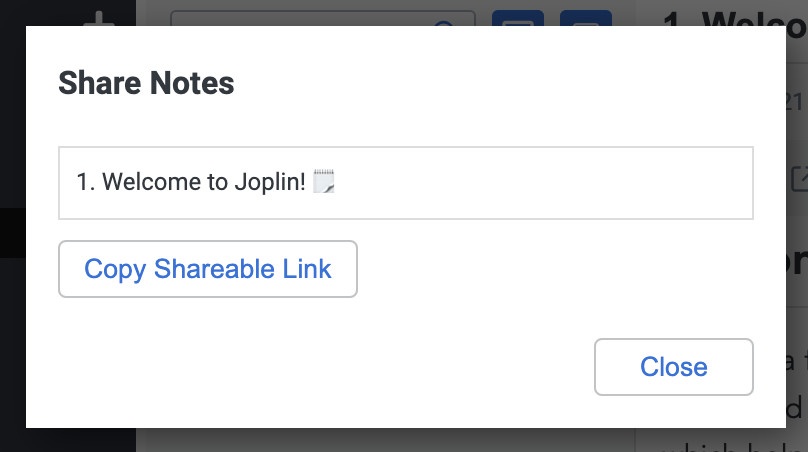 You can then share this link with anyone and they will be able to see the note in their browser: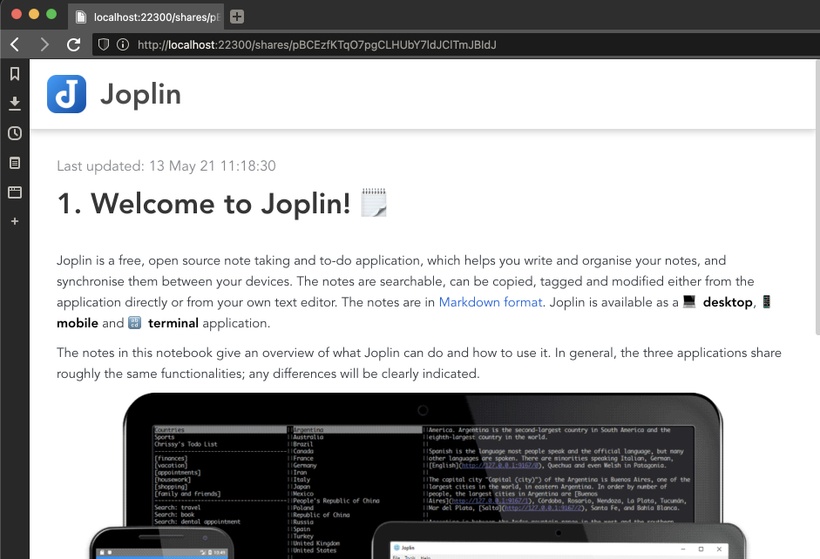 Note that at the moment sharing a link does not work with End-To-End Encryption. If you share a note, it will always be decrypted, even on the server. This should be addressed in a future version. The URL however is secure - only people you share the URL with will be able to see the note. In other words, it's not possible to guess or discover the URL any other way.
---
---
Published on 6 May 2021
Google has announced the project slots for GSoC 2021 and granted us 6 this year. That's a big step up from our first GSoC last year when we got 2!
In the coming weeks we will be reviewing the student applications again and select the 6 candidates as well as mentors. By the way if you might be interested in co-mentoring a project, feel free to let me know (More info in this post).
---
---
Published on 30 Apr 2021
A message from PackElend, who's been helping us organise GSoC this year (and last year)
* * *
Hi Community,
we are going to apply for the GSoC student slots next week, soon we know what can be done this season.
To put us in a comfortable position it would be appreciated if there would another handful of people who would mentor a project.
Is there anyone interested in doing so?
* * *
Here is some information about the role of a mentor:
After student selection🔗
Ensure your student is ready & active. They should have a dev environment, be regularly communicating in the community, and have prepared a project plan together with you.
Read the GSoC Mentoring Manual and ask questions if you have them.
If the student is not active during the community bonding period, please contact the organization administrators.
During the program🔗
Help your student be successful. Commit to spending a minimum of 4 hours each week answering questions, giving advice, working with your student on blockers.
Agree with the students how many times per week they should write a progress report. Ensure that they deliver this report on time each week, and evaluate their progress.
You might have adjust goals based on their progress.
---
---
Published on 13 Apr 2021
Been checking the numbers now and then and I see there will soon be more TypeScript than JavaScript code in the repo: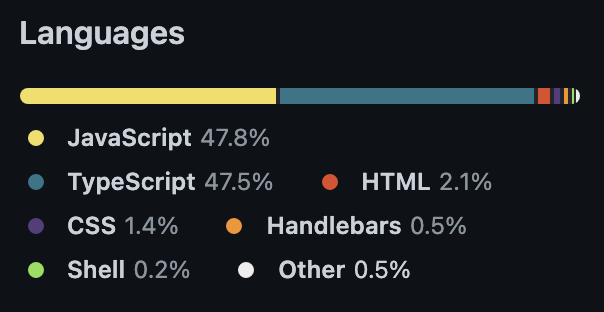 Probably a good part of the JS code is in the CLI app, which hasn't been updated much. Critical parts of the app are now in TypeScript, including the synchronizer, database and encryption service. Joplin Server is also entirely in TypeScript. Even the database rows are now typed thanks to sql-ts.
So anyway TypeScript has been a big win for the project as it made it possible to refactor and modernise many parts of it in a safe way, and make the code future proof and easier to work with! I expect we should get to over 50% over the next few months.
---